The Royal Palms Resort is a luxurious five-star hotel located on Banoi Island. The hotel has also been used for illegal activities and money laundering.
Background
"Nestled in the hills above the most pristine white sand beaches in the South Pacific, the Royal Palms Resort offers every luxury. The acclaimed architecture of the five-star resort blends seamlessly with the natural beauty of Banoi Island, a wild and untamed atoll off the coast of Papua New Guinea.
The Royal Palms Resort offers exceptional service and every modern amenity. The 127 spacious, climate-controlled rooms offer a spectacular view of either the jungle highlands or the Pacific Ocean. All the first-class accommodations offer a private balcony or a patio where the guests can enjoy a cocktail and enjoy warm, equatorial breezes scented with the heady perfume of rare tropical blossoms."
When the infection hit mass panic and chaos ensured at the resort. This is evidenced by the huge number of vehicles and hastily packed luggage on the streets and in front of the hotel. Many infected and walkers now lurk the resort and its hotel grounds. In the trailer the mother, father and the daughter are seen attacked as the infection starts. The daughter ends up falling from the building to her death. Strangely, her body is nowhere to be seen and the place where she fell does not exist in the game. She was likely removed due to controversies that would arise from having included children in the game.
Known Employees
Guests
Gallery
Maps
Map2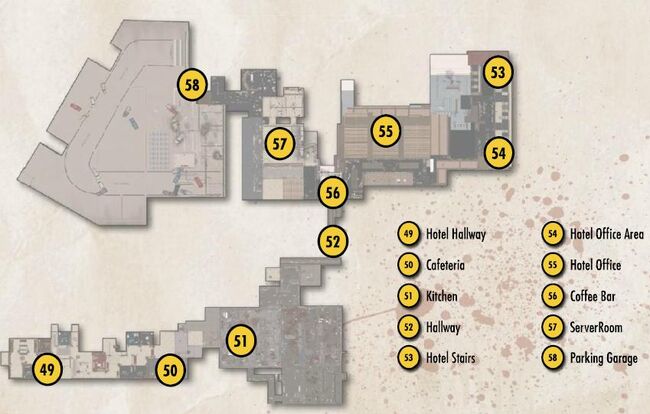 Map3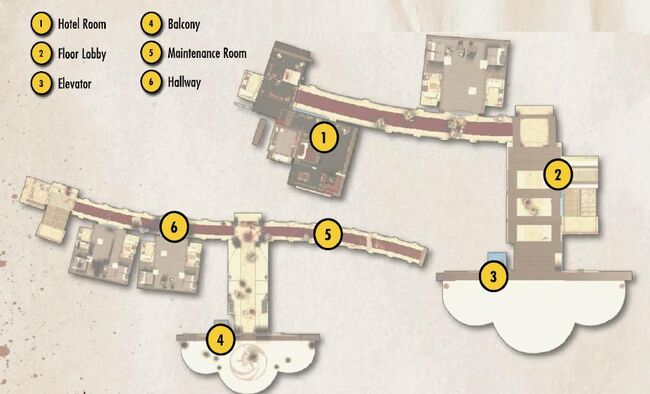 Trivia