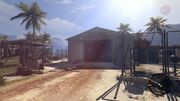 The Old Marina Workshop is a location featured in Dead Island. It is an automotive workshop that is owned and operated by Earl and his daughter, Jin.
The Hero must travel to the workshop during the main quest Misery Wagon, and must protect Earl and Jin while he reinforces the armoured truck during his side quest Only the Strong Survive.
Later, during the main quest Back in Black, the Hero and Jin return to the workshop with Mowen to acquire some poles for Mowen's Boat to push away the sea mines around the Prison. After acquiring them, Jin requests some time alone to "take care of something", which was to put her Walker father out of his misery.
Layout
The workshop itself is a large, metal warehouse surrounded by a fence, with some metal shelves up against the workshop walls. There's some covered bays inside the fenced area which contain all manner of things. Wrecked cars, barrels, row boats, boxes and various metal scrap is shoved under these covered bays. There's also various propane tanks scattered around, likely used for some of the workshop tools. The main workshop building has a ladder up to the roof and an electrically operated vehicle door to allow vehicles easy access. There's a separate, slightly smaller warehouse just down the road from the main workshop building which is just a storage shed. It has a large, double door entrance and loads of metal shelving inside for parts and spares. At the back is a covered area which has some wooden row boats for storage as well as a ladder to the roof. On the roof is a Walker and the word 'HELP' scrawled in red paint, along with a toolbox. There's several piers for boats to dock at, either to bring supplies to the workshop or for repairs.
Inside the workshop there's a large, open space to give plenty of room for larger vehicles and to allow space for the mechanic to move. There's a vehicle lift in the centre to allow the mechanic to work underneath the vehicle. There's several metal shelves against the side walls of the workshop which contain various tools, spares and other junk. There's also a few workbenches here, scattered amongst the shelving. At the back is an inaccessible door which likely leads to the back office of the workshop.
Notes
Trivia
Oddly, any time prior to Back in Black, the picture of Jin hanging on one of the shop's shelves has already been damaged by a gunshot. This is especially odd as it is not normally possible to see the photo after she shoots it. Attempting to do so forces a transition to the next act.
The adjacent workshop only opens after completing the side quest Only the Strong Survive.
Community content is available under
CC-BY-SA
unless otherwise noted.