Welcome to the Dead Island Wiki
The wiki dedicated to the Dead Island series that anyone can edit.
This wiki contains spoilers. Read at your own risk.
The Dead Island series
Useful Places
About
Dead Island is an action role-playing video game originally developed by Techland and published by Deep Silver for the Xbox 360, PlayStation 3, and the PC based on open-ended survival. The game uses a first-person perspective, but place major emphasis on melee combat and ammunition conservation, rather than running and gunning. Since its release, Dead Island has added several DLCs, Bloodbath Arena and Ryder White's Campaign, and an expansion, Dead Island: Riptide. Additionally, Dead Island's publisher, Deep Silver, has since published a MOBA spin-off Dead Island: Epidemic developed by Stunlock Studios, an adventure survivor horror prequel titled Escape Dead Island developed by Fatshark, and have announced Dead Island 2 developed by Yager Development.
Featured Article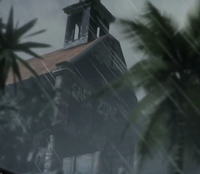 Saint Christopher's Church, abbreviated as St. Christopher's Church, is the fourth accessible Safe House in Dead Island. The church leader is Mother Helen, a nun. It is located in Moresby. The Heroes arrives to the church in an armored truck and finds a Ram attacking the building. The Hero then must go and kill a Thug defending the bell system inside the church. Several missions afterward can be completed after they are given to the Hero by survivors in the church and surrounding area.
Featured Image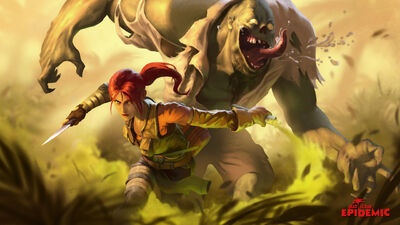 Amber
with her friendly zombie. Together they educate, evaluate and rehabilitate.
Did You Know?
"... Ryder White is a colonel in the Banoi Island Defense Force and the source of the voice?"
"... Xian Mei is an undercover cop with the Chinese police?"
"... There is a Prison off the shore of the Banoi Island?"
"... The family featured in the original trailer appears in the game?"
"... Haris' truck and many other vehicles in game license plates say D34D 1574ND which is Dead Island in leet?"
News
I'm bringing you some momentous news today! Today marks the day when every single Dead Island quest has got a proper layout and walkthrough! Yes, that's right, that means I finally decided to go through the remained couple of long Moresby side quests and give them a proper layout, bullet point deta…
Hey all,

So, I've been cleaning up the wiki, added pages and rewriting article stubs, etc. Single handedly cleared off 200 article stubs and counting! Anyway, I'm writing this for anyone else planning on editing or expanding articles to make sure the wiki has a standard form for pages. As we all kn…

Jgjake2
•
As some of you may know, my main contributions were/are more technical than anything. I created many of the original templates on the wiki and, after becoming an admin, I created a lot of the JS.
Moving forward with the wiki's development, I've written a few new scripts and have even more planned to…
See more >
Contribute to this wiki
To start a new article, just enter the title in the box below and click the button.
Not sure where to start?
---