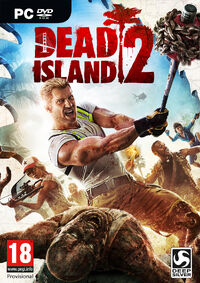 Dead Island 2 is an action role-playing survival horror video game in development by Sumo Digital and will be published by Deep Silver. It is the second main entry in the Dead Island series. It was first revealed on June 9th, 2014 at Electronic Entertainment Expo 2014. Development was suspended from in July 2015 when Yager was dropped from the project due to creative differences.[1] Game studio Sumo Digital announced they had taken over development on March 9th, 2016,[2] but did not mention a release date. The game is expected to be delayed far past its previously scheduled "late 2016" release and has since been completely removed from the Steam store.[3][4]
However, as of 2019, it's been confirmed that the game is still in development.[5]
Overview
According to Deep Silver's statement, the game will take place in Northern California and Southern California back-to-back.
Deep Silver released a statement describing the third instalment in the series:
Several months after the events on Banoi, the United States military has put the Golden State under full quarantine. Now a restricted zone, California has become a bloody paradise for those who refuse to leave their homes and an action-packed playground for renegades who seek adventure, glory and a fresh start. Combining the classic Dead Island elements of immersive close combat, action and role-playing, Dead Island 2 features crazy, never-before-seen handcrafted weapons and over-the-top characters in taking players from the iconic Golden Gate to the celebrated beachfront boardwalk of southern California's Venice Beach.[6]
Jack Black and Aaron Paul are rumoured to appear in this game, however, this appears to be a 'impersonator' for Jack Black as seen here. The impersonator, Mick Wingert, later confirmed his involvement in the game.
As with the first game, there are four playable characters, who each have their own class designation. They are Ryan, the "Berserker" and a former volunteer firefighter, Ashlee, the "Huntress" and a former teacher and party girl, John, the "Bishop" and apparently a preacher, and Dani, the "Speeder" and a stuntwoman.
Zombies
Trailer
Images
Videos
External links
References
Community content is available under
CC-BY-SA
unless otherwise noted.