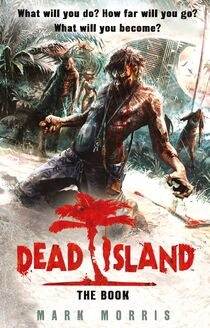 "Dead Island" is a novel for Dead Island that was announced in summer 2011.[1] It was planned for simultaneous release with the game. The book was written by Mark Morris, an author known for his series of horror and science fiction novels; books he's previously worked on include the universes of Dr. Who, Hellboy and Torchwood. It was published by Bantam Books on September 6, 2011, both in paperback (ISBN 9780857501035) and eBook (ISBN 9781446497302) formats.
Mark Morris has stated: "Having marveled, like the rest of the world, at the stunning trailer earlier this year, I absolutely leaped at the opportunity to write the official Dead Island tie-in novel. This is a rich, exotic world of well-conceived characters, stunning locations and all-out zombie mayhem."
He added, "What really attracted me to the project, however, was the fact that behind the nonstop action is a complex and multi-layered plot. I'm hugely excited and massively honored to be a part of the Dead Island phenomenon."
Synopsis
What will you do? How far will you go? What will you become? Welcome to Banoi, a tropical island where you can leave the stresses of the world behind… Welcome to the Royal Palms Resort — which offers its guests from around the world the ultimate in luxury and relaxation… Welcome to the holiday paradise where your dreams should come true… but where a nightmare is about to begin… Because a mysterious epidemic has suddenly, and without warning, broken out across the island. The local islanders, hotel guests and workers alike are struck down — only to rise again, craving the flesh and the blood of the still living. For four of the holidaymakers and a handful of others scattered around Banoi who are seemingly unaffected by the plague, they must face the awful, terrifying reality of a zombie apocalypse. Now there is only one thing left to do: survive. Welcome to Dead Island… a paradise to die for.[2]
References
↑ Dead Island description. Random House Books Australia