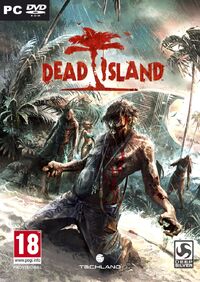 Dead Island is a video game developed by Techland and published by Deep Silver for the Xbox 360, PlayStation 3, Microsoft Windows, and ported to Mac OSX on April 2014. It was released on September 6th, 2011 in North America, and on September 9th to Europe, and October 20th in Japan. A remastered version of the game was released on the PlayStation 4, Xbox One and PC on May 31, 2016, under the title Dead Island: Definitive Edition. It is an open-world game centered on surviving on a zombie-infested Banoi Island. The game uses a first-person perspective; however, the developers are claiming that the game should not be labeled a first-person shooter because it has a bigger emphasis on melee combat and ammunition conservation, rather than a shoot 'em up. Dead Island runs on Techland's in-house Chrome Engine 5, the same which powers Call of Juarez: The Cartel video game.
The island of Banoi, just off the coast of Papua New Guinea, is a wild and untamed paradise, virtually untouched by modern civilizations. From the lush rain forests to the mountain highlands to the white sandy beaches, Banoi is considered the pearl in the necklace of the Oceania Archipelago. For many, it is Heaven on Earth — a place of peace and pristine beauty where travelers can leave the worries and cares of the workday world behind. But something evil has arrived in paradise, spreading chaos, madness, and death. Heaven has become Hell, and for those who still cling to life, there is only one thing left to do: survive.
Gameplay
Trailer
Glitches/Bugs
See Glitches
Gallery
External links
Community content is available under
CC-BY-SA
unless otherwise noted.