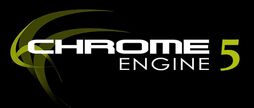 Chrome Engine
is a 3D game engine developed by
Techland
. The current version,
Chrome Engine 5
, supports Microsoft Windows,
Xbox 360
and
PlayStation 3
.
Chrome Engine evolved over nine years of development. According to its creators, the engine is purely "What You See Is What You Get" and allows substantial control over the process of creating game levels.
Chrome Engine 5 games include Dead Island and Call of Juarez: The Cartel.