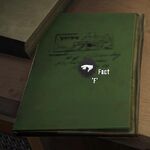 Banoi Herald Excerpts
, also known as facts, are a collectable item in
Dead Island
. There are 40 to be found across Acts I to IV.
The excerpts provide different interesting facts about Papua New Guinea. Most of the facts are a kind of guide that gradually gives the Hero (and the player) pieces of information that let them understand a little more about the place and the events with each excerpt found.
Most of the places in the game are based on real places mentioned in the excerpts, such as the Banoi Maximum Security Prison and Port Moresby.
Most of the excerpts available at the late stages of the plot development are devoted to the Kuru disease. In game, Kuru may contain the key to the antidote creation.
Status
Locations
Community content is available under
CC-BY-SA
unless otherwise noted.